International Journal of Cancer Management The Official Journal of Cancer Research Center (CRC), Shahid Beheshti University of Medical Sciences
OVERVIEW
Organization: Cancer Research Center (CRC), Shahid Beheshti University of Medical Sciences
ISSN: e: 2538-497X | p: 2538-4422
Frequency: Monthly
Dawood Mafinezhad, Reza Taheri, Seyed Esmaeil Nezhad Hoseini, Mohammadreza Motie
Research Article | 12 | 10.5812/ijcm.88551 |
Shima Abed, Kaveh Baghaei, Parviz Pakzad, Mehrdad Hashemi, Mohammad Reza Zali
Research Article | 12 | 10.5812/ijcm.94924 |
Iman Safari, Mahyar Nourian, Hamed Naghoosi, Aida Etemadi, Fatemeh Zeinali, et al.
Research Article | 12 | 10.5812/ijcm.91545 |
International Journal of Cancer Management:
Nov 2019, 12 (11), 6 articles.
Journal Features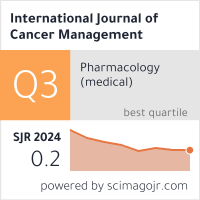 If you have any question contact us
Submit a Ticket:
---
Newsletter
Stay in touch and be informed about our special discount offers and educational letter from Kowsar.